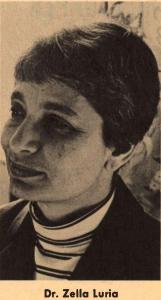 Zella Hurwitz Luria (1924-2018) was a psychology professor at Tufts from 1959-2002, known for her work on the social construction of gender roles. She received the Jackson College Teaching Award in 1969, and the Seymour Simches Award on Teaching and Advising in 1995. She was a charter member of the Women's Studies program.
Zella Luria was born on February 18, 1924 in New York City to Dora (née Garbarsky), a factory seamstress, and Hyman Hurwitz, a house painter. She graduated from Brooklyn College in 1944 with a bachelor's degree in psychology and received her PhD in experimental psychology and a minor in genetics in 1951 from Indiana University, where she also met microbiologist Salvatore Luria, whom she married in 1945. As a postdoctoral fellow and assistant professor at the University of Illinois, she was a clinician on the multiple personality case that became well-known as the inspiration for the film The Three Faces of Eve. After several years in teaching assistant and lecturer positions, she accepted a position as an assistant professor at Tufts in the Psychology Department in 1959.
At Tufts, she was known for her feminism, strong opposition to the Vietnam War, and vocal condemnation of social inequality. In 1969, she joined other faculty in voting to ban ROTC from campus. She was a popular teacher who won the Jackson College Teaching Award in 1969 and the Seymour Simches Award on Teaching and Advising in 1995. She worked to increase the number of women professors at Tufts and argued for better maternity leave and day care accommodations for faculty with children. A charter member of the Women's Studies program, she also supported the Women's Center and served as chapter president of the American Association of University Professors for several years.
Luria served as president of the New England Psychological Association from 1971-1972. She was a consultant to the Massachusetts chapter of Planned Parenthood, and worked with Physicians for Human Rights and the Center for Constitutional Rights to provide clinical assessments of asylum seekers. Co-author of the influential textbook Human Sexuality (1979, 2nd ed. 1987) and associate editor of the journal Archives of Sexual Behavior, she also published over forty peer-reviewed journal articles. She retired from Tufts at age 78.
She had one child, Daniel, with her husband Salvatore Luria. After her retirement, she continued to spend summers in Woods Hole, Massachusetts, at the summer home she and her husband built in 1964. She died on June 10, 2018, in Cambridge, Massachusetts.