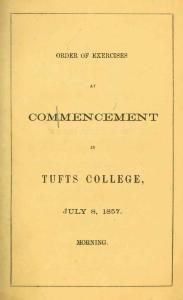 Commencement and reunions weekend is one of the busiest, and most enjoyable, times of the year for us in the archives; we're always busy with events and visits from graduating students, their families, and alums. Although in-person visits are not possible this year, we at TARC have been reflecting on and researching the history of commencement at the University as we celebrate and congratulate Tufts 2020 graduates. We've created a new online exhibit titled A Step into the Unknown: Commencement at Tufts University, and have worked to digitize our collection of Tufts Commencement Programs dating to the mid nineteenth century. These new resources are available to everyone in the Tufts community, wherever they may be on this unique commencement weekend.
The exhibit traces the evolution of Tufts commencement from its very beginning in 1857 to the present, incorporating photos, newspaper articles, and other materials. It focuses on ways in which the ceremony has transformed over time and intersected with events of historical importance in the world beyond Tufts.
Our Commencement Programs collection, newly digitized and available in our Digital Library, includes the commencement programs for Tufts College, later Tufts University, and its schools. The programs, which begin with the year 1857, record all recipients of degrees: graduate, undergraduate, and honorary, as well as the names of featured and honorary speakers. Also included are the schedule of events, music selections, and names of presenters. Additional content varies according to the commencement year, with some programs including dissertation and essay titles as well as the titles of speeches and orations given by graduating students. Some later programs include brief biographies, some with accompanying photos, of speakers and recipients of honorary degrees.
More information about the commencement programs is available in the finding aid for the collection. The programs are an invaluable source of information for anyone researching a specific Tufts degree recipient or speaker, as well as for those interested in learning more about the history and traditions of the Tufts Commencement ceremony. We're glad to make them to everyone regardless of physical location and look forward to the in-person commencement activities to come.
Related collection: The Commencement Records, 1985 - 2014.