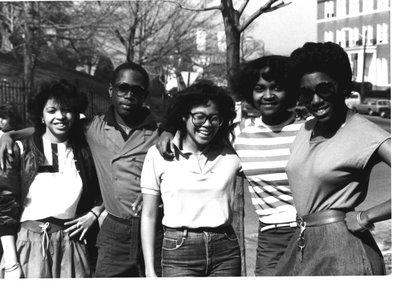 Gerald R. Gill was a beloved faculty member in the History Department of Tufts University from 1980 to 2007. In those twenty-seven years he had a profound and lasting impact on the lives of his students and the Tufts community as a whole. The Gerald Gill Papers at Tufts Tufts Archival Research Center include more than 50 boxes of material documenting Professor Gill's life and work. The collection of papers, photographs, and digital files document Gill's teaching, research, and the experiences of Black faculty, staff, and students at Tufts. His colleague and friend Jeanne Penvenne described the Gill Papers as speaking to his understanding of "the power of the remembered past to shape the imagined future. He never let Tufts forget how important Black Tuftonians were—and that the larger community around Tufts was incredibly important, too." 
Professor Gill's scholarship focused on African American protest movements. His dissertation, Dissent, Discontent and Disinterest: Afro-American Opposition to the United States' Wars of the Twentieth Century, evolved into published articles and a book project. At the time of his death, he was working on a history of African American protest in Boston titled "Struggling Yet in Freedom's Birthplace: Black Protest Activities in Boston, 1930-1972."
Professor Gill's work researching the African American community at Tufts resulted in his published version of "Another Light on the Hill" in Tufts Magazine's sesquicentennial issue. Our online exhibit, Another Light on the Hill, is based on his writing and work. Professor Gill also conceived of the Tufts Black Freedom Trail, a historical markers project mapping significant historical sites at Tufts.  This work has been continued and expanded upon by the Center for the Study of Race and Democracy at Tufts, resulting in the African American Trail Project, led by Kendra Field and Kerri Greenidge. Information on Tufts-specific sites are represented in our exhibit: The African American Trail Project at Tufts University.
Professor Gill was well known for his mentorship of his students, and for developing relationships that often extended beyond the students' years at Tufts. He won numerous awards for teaching at Tufts and beyond and was twice named Massachusetts Professor of the year. Professor Gill was heavily involved with community service, working with students and student groups at Tufts and serving as a frequent commentator on events and topics involving Boston's African American community on radio, television, and at community events.
Professor Gill passed away suddenly in August 2007. In September 2016 his daughter, Ayanna Gill McGee, donated these rich materials documenting his life and work to Tufts Digital Collection and Archives (TARC). The collection is now open for research. 
For more information on the Gerald Gill Papers:
Previous posts: The Gerald R. Gill Papers at Tufts Archival Research Center and Celebrating the Gerald R. Gill Papers.
Another Light on the Hill Online exhibit
African American Trail Project at Tufts Online exhibit
African American Trail Project, Center for Study of Race and Democracy
Faces of  the African American Trail Project Gallery, including images from Tufts Tufts Archival Research Center
Jeanne Penvenne Papers on Gerald Gill
Celebrating the Gerald R. Gill Professorship in Race, Culture and Society