Posted on Wednesday, December 21st, 2022 by Dan Santamaria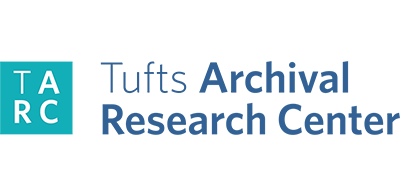 We in Digital Collections and Archives are very excited to announce that the name of our department will be changing to Tufts Archival Research Center (TARC) in early 2023. Our website as well as related sites, such as Archives at Tufts, TASCR, Newspapers at Tufts, and Exhibits at Tufts will all reflect this change starting on January 4, 2022.
This name change is a result of planning processes dating to before the pandemic and was recently approved by the Provost.
DCA has undergone significant growth and evolution of services since 2015. Our new name reflects our current services and University-wide mission, particularly our strong emphasis on access, use, and archival research. The change also provides clarity that our department maintains both physical and digital collections as well as physical spaces, including the Tufts Archival Research Center reading room, which is devoted to primary source and archival research at the University.
Over the past several years DCA has experienced:
Record levels of research inquiries from Tufts students, faculty, staff, and researchers from outside the University

Exponential growth in our teaching with archival materials program

Growing physical and digital collections documenting the University's administration and schools, students and student life, as well as social and environmental justice, broadcast journalism, Boston-area medical history, and performing arts

Growing use of archival collections and research services University-wide

Increased interest and demand for archival research and public history initiatives such as Leading While Black and work with the Public Art Committee anti-racism workstream and other exhibits and projects

Increased interest in institutional history, particularly the early history and founding of Tufts College

Significant research related to the SMFA, Fletcher School, and Central Administration
The name Digital Collections and Archives was adopted in 2001, reflecting the department's new-at-the-time focus on digital initiatives and University-wide services. Our staff will continue to provide leadership in work related to digital infrastructure, particularly related to digital preservation, but this name change will better reflect the breadth of our work around archival services and research at Tufts.
Please feel free to get in touch with any questions either via email or through our Ask an Archivist service. We look forward to seeing you at TARC in the 2023!