Posted on Wednesday, October 18th, 2023 by Dan Santamaria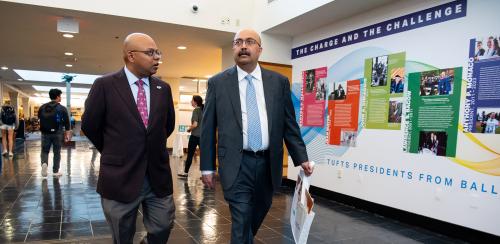 TARC is excited to announce that the online companion to our new exhibit, The Charge and the Challenge: Tufts Presidents from Ballou to Kumar, is now live. The physical exhibit is located at the Tisch Library main entrance and around the corner in Dranetz Tower. The online exhibit expands on the information offered in the physical exhibit, diving a little deeper into each president's work and showcasing a wider array of photographs and papers. Visit exhibits.tufts.edu/spotlight/tufts-presidents to learn more!
The unveiling of the online exhibit follows a successful opening reception on Inauguration Day (October 6, 2023). After the inauguration and reception, guests including President Sunil Kumar and Provost Caroline Genco were invited to make their way to Tisch Library to explore the new exhibit and view a selection of presidential artifacts presented by TARC archivists. On display were the College Charter, correspondence by president Hosea Ballou, 2d, maps, photographs, historic yearbooks, a commemorative Medford/Tufts Green Line station sign, and more.