Posted on Wednesday, January 15th, 2020 by Robin Rapoport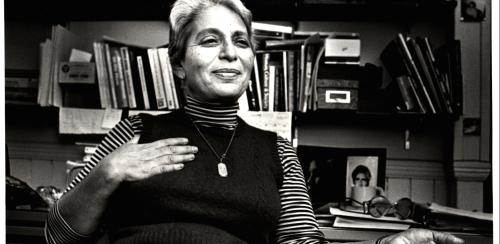 Update – Digital Exhibit Now Online!
As of spring 2020, the physical exhibit Zella Luria: Leading the Charge has also been converted into a digital exhibit bearing the same title. The online exhibit includes digital versions of the materials showcased in the physical exhibit along with additional content, including photos of Professor Luria and more documents related to her teaching, research, and activism. Our hope is that the exhibit will continue to grow as visitors are inspired to share their own memories of Professor Luria to be featured on the Remembering Zella Luria page, adding to our understanding of her life and work. If you would like to contribute to the exhibit, please email submissions to archives@tufts.edu.
Tufts Digital Collections and Archives has installed a new exhibit celebrating the life and work of Dr. Zella Luria. The exhibit, Zella Luria: Leading the Charge, will be on display in the Tisch Library lobby through the 2020 Spring semester. Curated by Archives Assistant Robin Rapoport, this exhibit explores Professor Luria's teaching and research, activism, and personal relationships as reflected in her papers.
In her teaching and research, much of Zella's work was centered on her drive to expand our understanding of the ways in which gender identity is formed and gender and sexuality shape and inform human experience. Her papers include many documents related to her study of Jackson College students in the 1960s and 1970s. Jackson College for Women was founded in 1910 as a separate, all-women, coordinate college to Tufts University and was later absorbed into Tufts. Luria's research examined the motivation to work in a sample of 1967-1968 graduates, comparing it to a similar sample of 1969-1970 graduates and finding higher rates of motivation in the latter group. The exhibit showcases a number of these documents along with a slide showing some of the study results and a punch card used in administering the California Personality Inventory.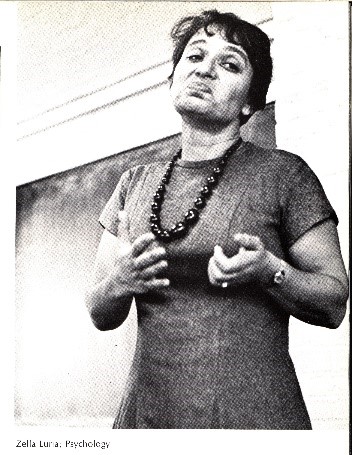 Zella was also an activist who worked passionately for change in many areas. The exhibit includes several articles about her efforts in support of these causes. Represented among them are her opposition to the Vietnam War, her support for affirmative action, and her denunciation of the enabling of sexual assault by fraternities. One student recalled: "In the 90's when I was there, Zella was leading the charge at Tufts against the systematic date rape culture of fraternities, decades before the #MeToo movement."[1]
Zella was also a beloved colleague, mentor, wife, mother, and friend. The exhibit includes family pictures, correspondence written by Zella, and remembrances of Zella contributed by former students who recall her influence on their lives, both at Tufts and beyond.   
We hope you'll stop by to visit the exhibit and that it will provide you with a deeper understanding of and appreciation for Professor Luria's unique spirit and her invaluable contributions to Tufts and to society as a whole.
For more information on the Zella Luria Papers, please see the finding aid in the Tufts Digital Library, or contact us at archives@tufts.edu.
[1] Byrnes, Jennifer Lindeman. "Zella and I." (personal correspondence)