Posted on Wednesday, January 5th, 2022 by DCA Staff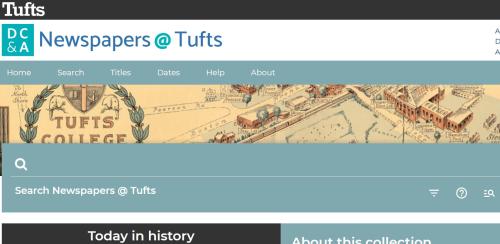 Tufts student newspapers dating from 1896 are now available for searching, browsing, and reading at Newspapers @ Tufts.  The new portal allows for browsing of issues by specific date from a calendar interface and full-text searching of over 6,000 issues, and nearly 80,000 pages, of the Tufts Weekly, the Tufts Observer, and the Tufts Daily at newspapers.tufts.edu.  
Together these newspapers have been the primary source of news and debate at Tufts for over 125 years. The newspapers are among the most requested and accessed items in the Tufts University Archives, and are used frequently for archival research projects by students, faculty and staff. They document most major events at Tufts, with a focus on the Medford campus, as well as essential documentation of the evolution of student life from the 19th through the 21st centuries and of student reactions to local, national, and international events.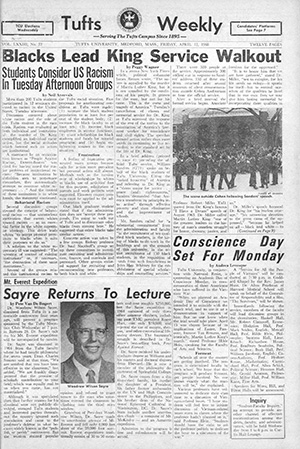 The portal is a result of a multi-year project to digitize past issues of the student newspapers. We are currently working on filling a few remaining gaps of the Tufts Daily from 1980s and early 2000s; digitization of these issues will occur starting in February 2022.  
Question about Newspapers @ Tufts can be sent to archives@tufts.edu or through our Ask an Archivist webform.