Posted on Tuesday, February 1st, 2022 by Pam Hopkins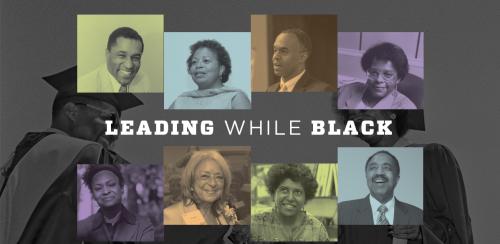 We at DCA have been very pleased to participate in Leading While Black at Tufts, an initiative that illuminates the long-standing presence and contributions of Black university leaders at Tufts to governance, institutional decision-making, and community leadership. The work will culminate in an online event celebrating the eight transformative leaders listed below as well as an exhibit on the main floor of Tisch Library. The exhibit has been a major undertaking; DCA staff, especially Archives and Research Assistant Deena Bhanarai, have been researching, writing, and selecting images for the exhibit since August 2021. The exhibit will open to the public on February 7 and remain on view through August 2022.
Over the next month we will be posting additional photos, documents, and other information through our social media channels and our website. In the meantime, you can watch or listen to oral history interviews for each of the symposium honorees at the links below. For more information about the Leading While Black initiative and symposium on February 19 please visit the project website: http://lwb.tufts.edu.
Joanne Berger-Sweeney, Dean, School of Arts and Sciences (2010–2014)
Lisa Coleman, Executive Director, Office of Institutional Diversity (2007–2009)
Director, Africana Center (1999–2007)
Marilyn Glater, Associate Dean of the Faculty and Dean for Natural and Social Sciences, School of Arts and Sciences (1994–1997), Associate Dean of Liberal Arts and Jackson College, School of Arts and Sciences (1990–1994)
Bernard W. Harleston, Dean of the Faculty, School of Arts and Sciences (1970–1980)
David R. Harris, Provost and Senior Vice President (2012–2018)
Bobbie Knable, Dean of Students, School of in Arts and Sciences, 1980–2000
Lonnie H. Norris, Dean, School of Dental Medicine (1995–2011), Professor, Tufts University School of Dental Medicine (1980–2011)
Vivian W. Pinn, Associate Dean of Student Affairs, Tufts University School of Medicine (1974–1982), Associate Professor, Tufts University School of Medicine (1970–1982)