Tufts Archival Research Center is eager to partner with undergraduate and graduate classes from all disciplines across the University to introduce, develop, and support primary source research skills through our manuscript and University record collections.  
We offer a variety of established active learning activities and work with you to develop course-specific programming for both in-person and remote learning. Come teach with us!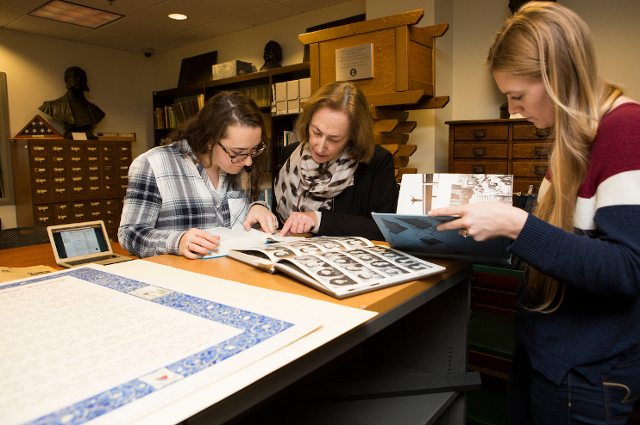 Preparing for Your Class Visit
Besides our active learning activities, our staff provides supporting materials that include information about our hours and services, links and descriptions of relevant collection material, information about registering for a Tufts Archives and Special Collections Research (TASCR) account, and guidance for citing archival material.
We continue to offer active learning and orientation through Zoom.
Our Reading Room is located on the ground floor of Tisch Library on the Medford Campus. Tufts Medford campus affiliates may swipe into the side door on Professors Row, though groups may wish to meet in the Lobby. Please see our Hours and Planning a Visit for more information.
Please review our Reading Room policy in advance of your visit. Lockers and a coat closet are available for visitors' belongings. Pencils (freely available), notebooks, laptops, and cellphones are welcome in the Reading Room, but food and drink are not.